VPLAY 5 - Channel in a Box Playout System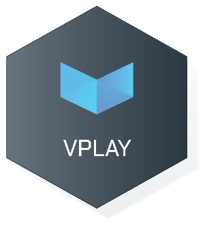 MULTIFUNCTIONAL PLAYOUT SERVER «CHANNELS IN A BOX»
Multi-functional user friendly multi–channel broadcast playout server for multiple tiers of broadcast operators and full broadcast center operations.
Vplay 5 is ideally suited to Broadcasters who are aiming to migrate to IP and web streaming services. The server can mix different inputs and outputs on a per channel basis and supports multi format ingest from live sources.
Vplay supports subtitling and automatic audio leveling, regional ad insertion based on SCTE–35 tags, advanced graphic overlay per individual channel, simulcast out, internal transcoding and trans–rating of signals to DVB, ATSC ½ IP TS and Multi–Bitrate OTT broadcasting.
One server - multiple channels? Easy!
Live from Stream Labs company office via VPLAY Broadcasting solution
Enjoy live 24/7 live streaming from testing server in Stream Labs Latvian (Northern Europe) office using VPLAY 5 software - UTC+2 timezone.
Example shows various channels with multiple inputs and outputs each (UDP/MPEG-DASH/HLS/3G-SDI). 1080p HLS stream available for test as well.
Note: During the software Skype demo, server maintenance or software upgrade - channel can be offline multiple times a day.
Main scheduling application
Local or remote user interface for broadcast operations with multiple simultaneous users
User authorization and user rights management for each individual channel
Flexible user interface with support for multiple windows and multiple monitor setups
Different operating modes: looped playlist, scheduled playback
Pre-schedutdng and live editing
Support for DTMF, SCTE 35/104, GPI
Player for verifying content creation and subtitle overlays
Channel graphic design and live graphic scene output verification
Using incomplete recorded files in playlist
Server configuration
Remote storage support
Multiple file format support
Input signals support from different hardware
Channel output signals may be routed to various hardware devices
IP output support
Ability to route one input signal on multiple channels with different settings on each channel.
IP and WEB broadcasting in parallel with AV signal output, while adjusting bitrates and resolution
Ability to visually monitor any input or output on the server in real–time.
Included Computer Graphics engine
Support for multi–layer graphic scenes
Support for live inputs in PIP mode
Text banners, crawling or rolling text, RSS news, text files and dynamic data updates
Digital and analog clocks
Full frame graphic animation
Graphic design preview
Basic software features
Client–Server architecture / FULL Remote control support (LAN / VPN)
AsRunLogs
Simultaneously work with several channels
User / Access management
Unlimited Computer Graphics engine with transitions
TAGS, Metadata support / Filename parser
Live Inputs / Ingest mode
System logs
PAL/NTSC/SECAM/SD/HD/4K/Custom resolution support
Studio signals over IP (SMPTE ST 2110)
Independent parallel outputs support
GraphicRules / Templates / Multi–layer graphic scenes
External events (GPI, DTMF, CueTones, SCTE-35, SCTE-104)
Multiaudio support
Dolby Digital AC3
Time Events / Manual events / External events
Playlist Import / Export
StreamLabs, AJA, BlackMagic, Dektec, Mellanox* I/O cards support
Full frame animations / Transparency mask layers / Picture In Picture / 2D Effects
Distributed architecture for different work stations broadcast management / design
QualityControl / Loudness normalization
Burn subtitles, subtitles generation / SRT files support
Cue-Tone / SCTE-35 / SCTE-104 generator or pass-through
Inputs / Outputs configurable multi-format recording
Backup Option / Server reservation option (1+1)
Legend: - included by default | - extra feature
Brief technical specifications
Input / Output interfaces and formats:
SMPTE–2110 4K
NewTek NDI®
up to 12G-SDI (Embedded audio)
Composite/S–Video/YUV (Analog Audio: balanced / unbalanced)
IP TS UDP MPEG-TS (MPEG 2, AVC/H264, HEVC/H265)
HDMI (576, 720, 1080, 2160)
WEB RTMP, RTSP, HLS, MPEG–Dash, SRT
Supported ingest/output cards brands:
Stream Labs, AJA, BlackMagic, Dektec, Mellanox Connectx
Fully supported media formats:
AVl, MOV, MXF, MPG, BMP, TGA, GIF, PNG, JPG, TIF etc.
Fully supported media codecs:
XAVC, AVC–Intra, XDCAM HD422, DVCPRO (25,50, l 00), DVCAM, HDV, IMX (30,40,50), XDCAM EX (SP, HQ), XDCAM HD (LP, SP, HQ), DNxHD (36,145,220), AVC/H–264, MPEG2 GOP, Apple ProRes etc.
Channel branding:
The rendering engine supports animated Logos, full frame animation and transparency mask layer. Full metada ta support for system automation. PIP capabilities with live inputs, 2D DYE effects, Text banners, Scrolling text, RSS with automatic data updates.
Subtitles support:
Subtitles burn into the image, subtitles generation in UDP streams. Support for SRT files. Application to edit subtitles.
Automated advertising detection/insertionby:
DTMF, SCTE–35, SCTE–104, GPI.
Ready to use solution
Stream Labs company provide the turnkey solutions for end users and integrators. The tested 1U-4U servers with pre-configured software, post sales 24/7 technical support & remote/onside training for engineers (by request) - are shipped worldwide with rails and all necessary cabling.
Hardware configuration depends from channel count per server and number of outputs per each channel. Possible request any: storage volume, drives brand, RAID controller, single or double hot-swap PSU's ... etc.
Did you find what you're looking for?