Solution for non-stop recording and advertisement detection (scanning).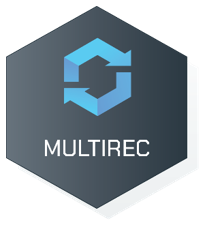 You just set the desired number of the days to keep track of, and Stream MultiRec will record them uninterruptedly 24 hours a day with no human intervention. The number of tracked channels is defined by the user depending on specific requirements and the storage capacity of the video server in use.
Based on proprietary audio fingerprinting and video fingerprinting technology
Automatic commercial ads detection, promos detection or any other content matching
Supports both audio and video based detection
Does not require any watermarking of the feeds in advance.
Fingerprint can be extracted from any sample, either from the recorded feed or from an imported file.
Scan previously recorded material retroactively with x16 speed.
User autorizations for login in WEB interface allow to keep for each operator different templates and different number of templates.
Possibility to scan Ads in cases of video upscaling or downscaling (SD and HD)
Possibility to detect video content in case of video problems - blocking artefacts or analog noise additive
Low requirements for hardware (servers) power - possibility for detection up to 128 different video samples at the same time (in one channel) on platform based on CPU with 4 cores
Supported inputs:
UDP and RTP (HD or SD;Multicast or Unicast;SPTS or MPTS;H.264 or Mpeg-2 with any Audio Codec).
Onvif devices (with autorization and without autorization) for CCTV cameras(UDP, TCP, HTTP, RTP)
Direct Link (RTSP)
Using MultiEncoder software or MultiScreen Source Coder option together with Stream Labs cards (MS4, MS2, MS416, MH4LM-22) possible to use inputs (PAL, NTSC, SECAM)
HD-SDI (Embedded Audio)
SD-SDI (Embedded Audio)
Composite (Analog Audio)
Block Advertisement Detection in Real time via WEB interface
Block Ad Detector can be usefull in commercial department and\or in advertisement department and for operators to check advertisement insertions. It able to recognize Advertisement insertions in the media line using 3 ways which can be combined:
Video bumpers
Audio bumpers
Intellectual video analyzing (No bumpers) - appearance of advertisement block - Algorithm of Intellectual analyzing video frames for static/dynamic text + algorithm for analyzing dinamically changing of video-frames
To playback video in WEB browser through HLS video must be in AVC\H.264 with AAC audio (Google Chrome or Mozilla Firefox).
Advertisement Scanner required special license type.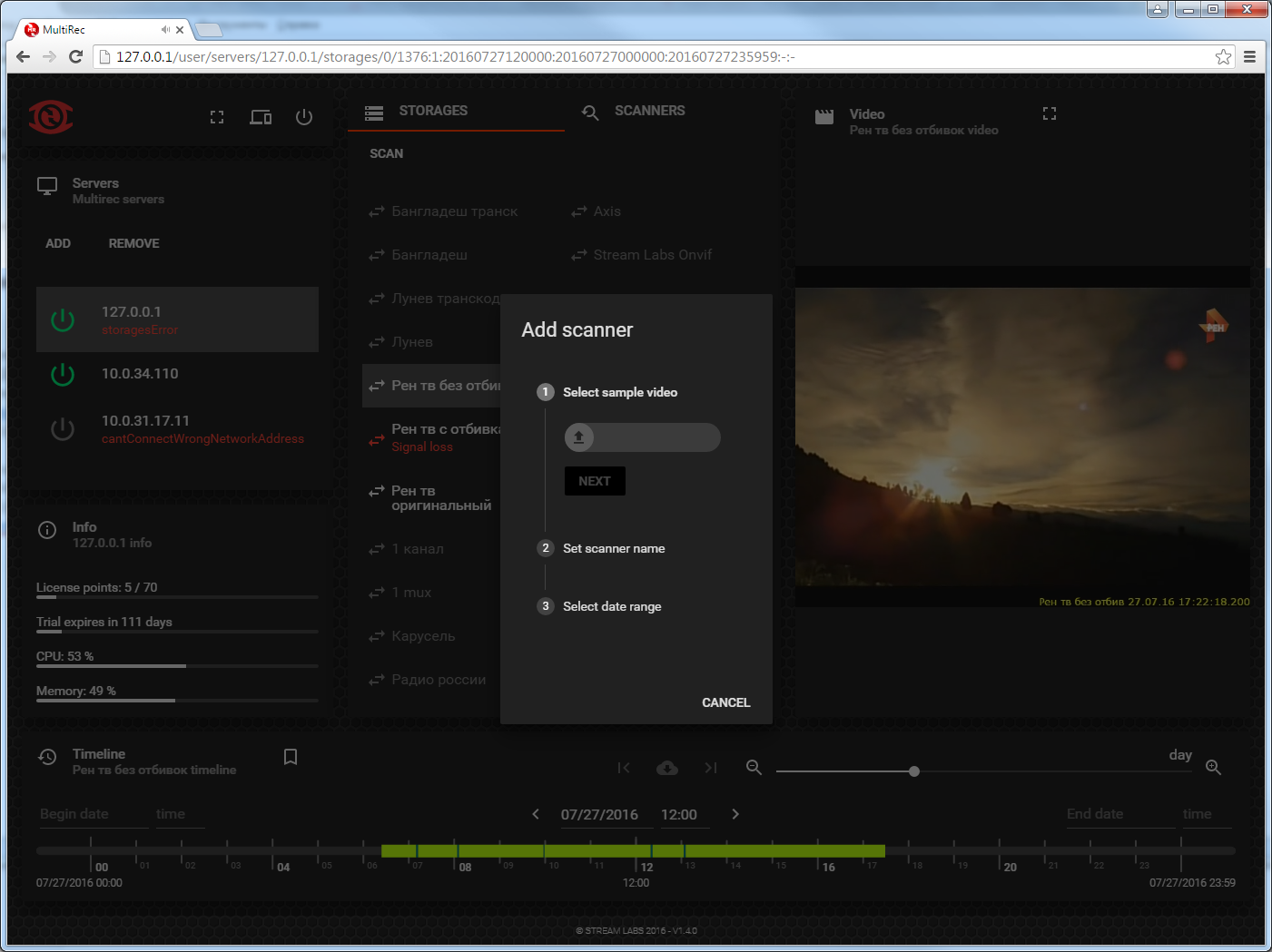 Advantages of using WEB interface
Cross-platform - there are possible to work with servers through any OS on which can be installed WEB browser - Mac OS, Linux, Chrome OS, Android, iOS, and etc.
Possibility to work with MultiRec servers on mobile devices based on platforms Android, iOS, Windows Phone.
"Link to page" feature - is generating QR code for current session. This allows to login and continue work with video archive later from any mobile device with full restored session.
Possibility to get access to server from any place in the worls.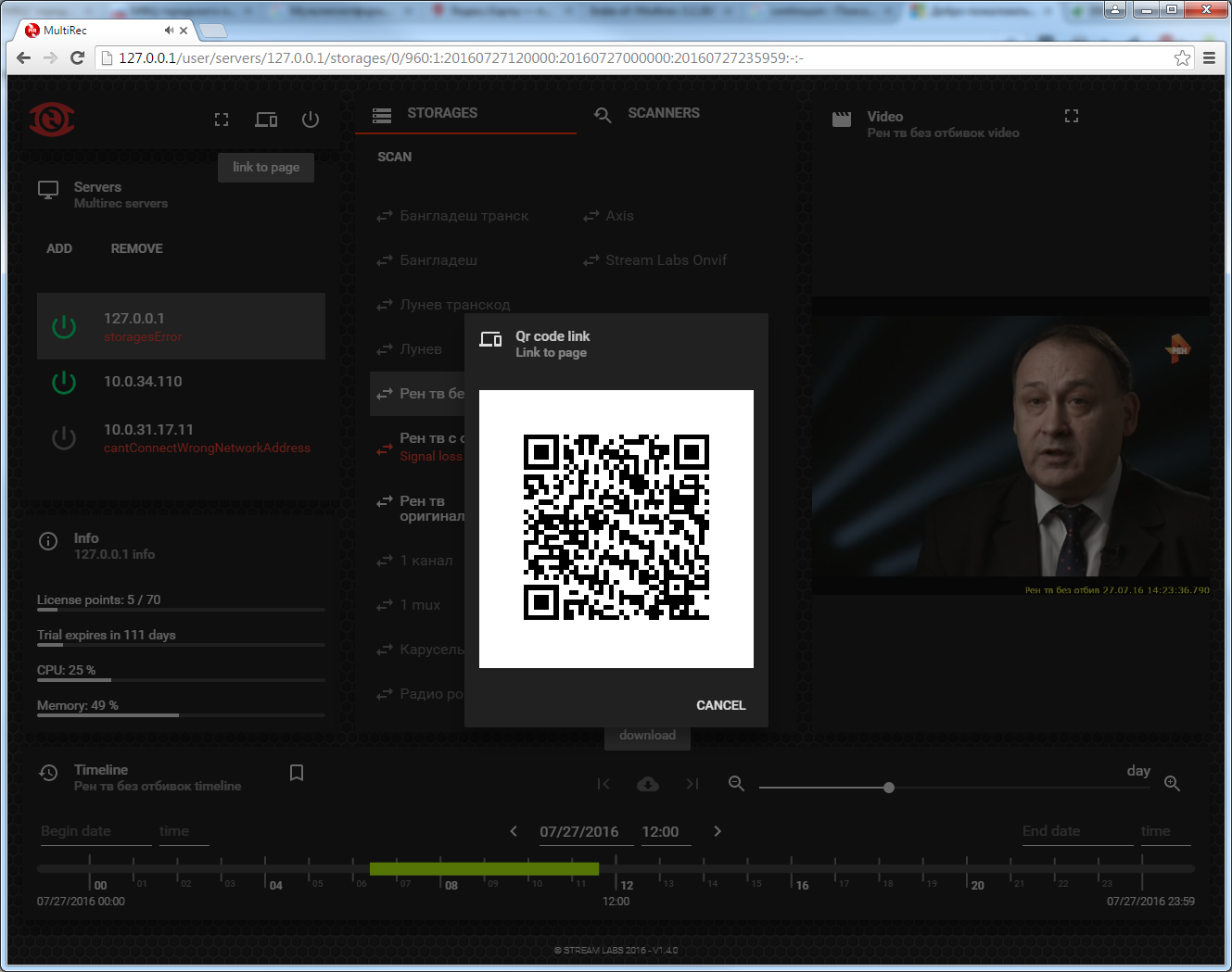 Features:
Demultiplexing MPTS to single services for recording.
Recording of Transport Streams in original format «as is»; or recording with transcoding with option to scale and flexible settings for more compact storage
Streaming of recorded channels to Mpeg 2 TS into IP network UDP(Multicast\Unicast) or HLS from archive to local network for remote visual monitoring of incoming TV-signals and confirmation that they have been recorded and stored in archive;
Support HDD any capacity and RAID level - local and network storages(NAS);
Automatic restoration of Recording after hardware restart;
N+1 redundancy at input network interfaces, condition of HDD(s), condition of the server itself and of operating system.
Software automatically monitors the performance for each channel and total system performance which allows to flexibly control and adjust server loading;
Non-stop recording or upon a record-list for each channel;
Inpidual schedule and rules for each channel;
Display of the entire recording history for every channel using special timeline with different colors, marking the recording events such as the start/stop, no signal, no writing...etc.
Time-line for searching, data selection and downloading them for later viewing;
User rights - allows simultaneous connection, downloading and viewing in real time the recorded data by multiple users.
| | |
| --- | --- |
| Server Info | Time Stamp |
| | |
Client applications features:
Converting video fragments after downloading from storage to MP4, AVI or TS format.
Time-Stamping on top of video with any font, size, color after downloading from storage.
User Rights access to servers.
The standard Stream MultiRec server comes with a complete set of server and client software. The client software can be installed by the user to the desired number of network workstations.
MultiRec Viewer:
GUI client application for downloading and revision of the saved media data in video archive.
Separate software-client for visual status monitoring of several recording servers Stream MultiRec with details for each recorded channel.
| | | |
| --- | --- | --- |
| Email notifications (via templates) | Notifications | SMS notifications |
| | | |
Did you find what you're looking for?