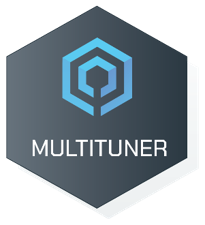 FM monitoring, compliance recording, retranslation and web streaming
Stream FM/DAB Radio Monitoring is a powerful and professional solution for multi-channel FM monitoring, compliance recording, retranslation and web streaming. The unit includes tools for monitoring and measurement of FM signals, perform real time analysis and also allows you to remotely monitor your facilities.
The device can be used for the following functions for monitoring or quality control:
Operator broadcaster premises and government compliance organizations. (onsite and offsite)
For compliance recording
As part of a distributed monitoring network for remote and hard to reach maintenance free stations.
As a gateway that converts broadcast signals into IP for rebroadcast over IP data networks and Internet streaming
The device support receiving and streaming into IP networks up to 16 stereo broadcast channels. The number of channels is dependent on the device version: 4/8/12 or 16 channels. The device preforms encoding and compression of FM channels with the ability of changing bitrates. All signal parameters can be displayed on a dashboard interface accessible remotely via a web interface.

MAIN FUNCTIONALITY:
Operating Range: FM, VHF with polar modulation and pilot signal
Number of monitoring channels: 4/8/12/16
Analog monitor output: 3.5 mm Jack
SNMP for remote configuration, alarms and polling
Web-interface
Support for Multi-Probe architecture
Receive and decode RDS
Pilot signal presence indicator
Measured parameters:
Full level of KSS
Signal to noise ration (dB)
Interference detection (in % 0-100)
Multi-channel setup manager for automatic or manual configuration of slots
Internal non-volatile memory (NVRAM) for configuration storage
Standard 19" 1 RU rack mountable
STREAMING:
AAC compression (ISO/IEC 13808-7)
CBR or VBR
Mono-Stereo and joint stereo modes
UDP
Multicast (RFC 5771)
DEVICE DESCRIPTION:
Radio signals are received via a feeder antenna (not included) and supplied to the RF input port of the Stream FM Radio Monitoring device. Internally, the signals are fed to a splitter from which they are fed to receiver modules. On the motherboard there are 4 connectors for the receiver modules and each module contains 4 RF receivers. The number of installed modules determines the configuration of the device.
The receiver modules amplify, demodulate, de-multiplex and decode the received RF signals and provide signal measurements in real time for monitoring. Any received signal can be routed to the monitoring output, at the front of the unit, for listening.
An onboard processor provides all the necessary control and monitoring of the signals as well as a built in web interface.
FRONTAL VIEW

The front panel has a power button, an operating status indicator and an audio monitoring connector (3.5 mm Jack). The device case is rack mountable in a standard 19" rack
REAR VIEW

On the rear panel there is a 220V power connector, an RJ45 connector for the Ethernet port and an RF connector for the feeder antenna.
INTERNAL CONFIGURATION
Power supply is on the right front panel is at the top. On the left is the motherboard with 4 receiver boards. This figure shows a fully configured device to support 16 channels
WEB USER INTERFACE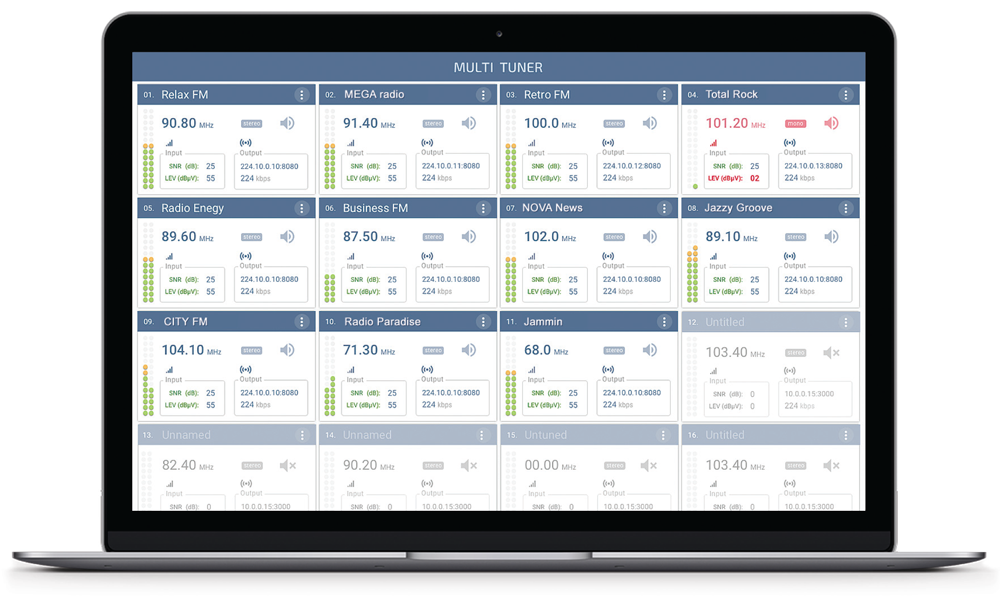 The device can be accessed and configured through the web interface, which is accessible via any standard web browser. Figure 4 displays the main monitoring window. This summary view provides the main parameters for each channel. Each window displays data on frequency and signal level, name of station, signal-to-noise ratio, sound level, pilot signal presence indicator, scrolling line with RDS text, streaming parameters and monitor port output.
Did you find what you're looking for?