MS Analyser for TS Errors
MultiScreen allows building Monitoring Solution without visualization of all TV channels.
In this case all TV and Radio controlled channels will be displayed as "Cells" in State Panel tool - MultiMonitor.
Also, any channel can be visualized on Penalty Screen in manual mode (according to selection, done by Operator) or in automatic mode (in case of Error Detection).
In such configurations main work is being done by remote application MultiMonitor, which receives information about controlled TV channels from the servers. This functionality is unique and can significantly optimize the task of monitoring of large number of TV channels.
Basic diagram for MultiScreen Detector - monitoring at different processing points of DVB signal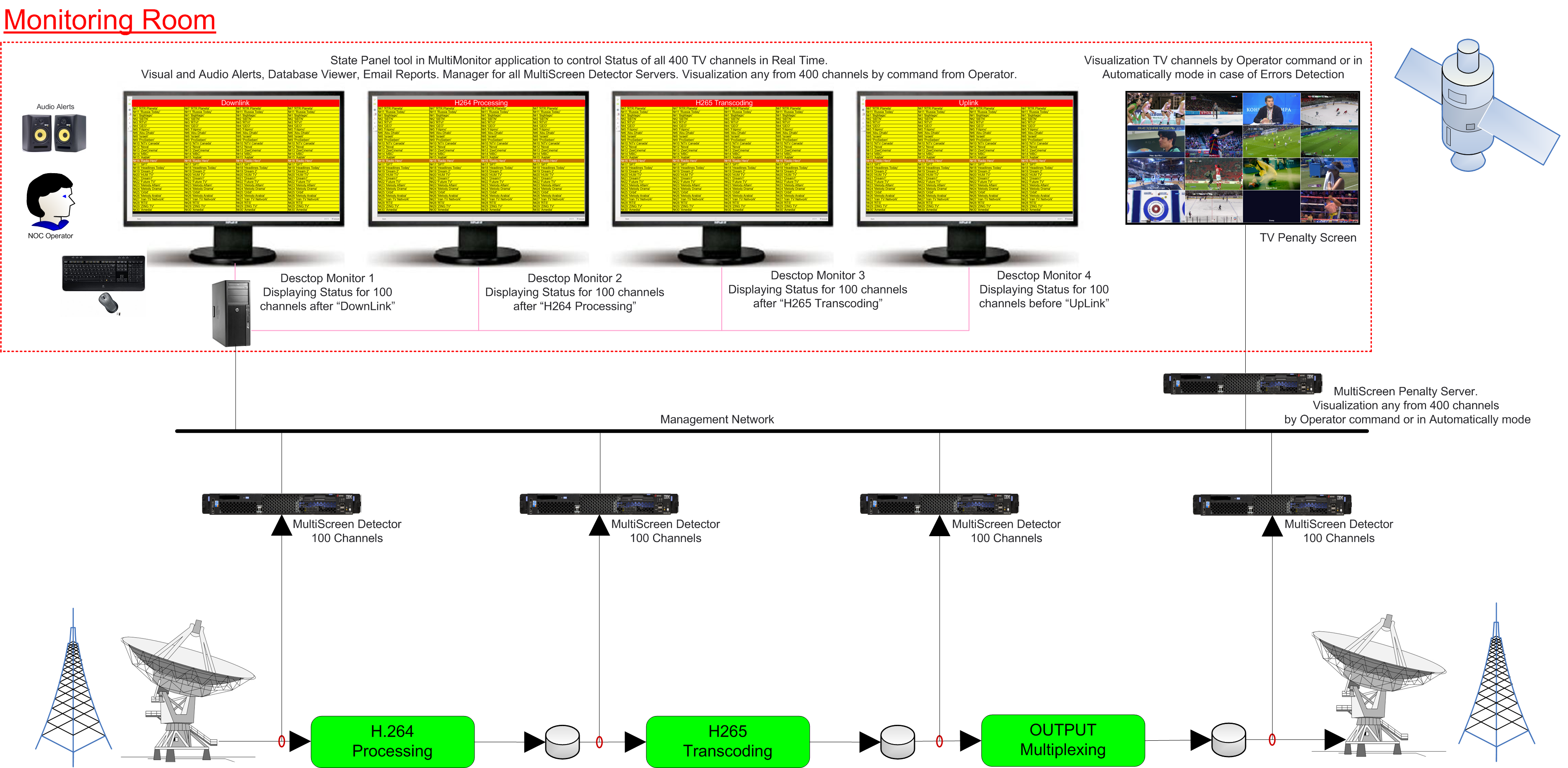 Supported TS inputs:
Stream MultiScreen server represents an effective media platform, which provides simultaneous visual and instrumental control of unlimited number of TV- and Radio- channels. The number of physical inputs per 1 server depends on the installed input card:
IP/Ethernet (ETSI TS 102 034).MPEG-2 TS (ISO/IEC 13818-1), MPTS or SPTS
DVB-ASI (ETSI EN 50083-9). Bitrate range 0..214 Mbit/s;
DVB-T/T2 (ETSI EN 300 744, 302 755);
DVB-S/S2 (ETSI EN 300 421, EN302-307, EN301-210);
DVB-C/C2 (ETSI EN 300 429 Annex A/B/C);
HLS (HTTP Live Streaming Monitoring); supports encrypted streams
Input video formats:
MPEG-1 (ISO/IEC 11172-1);
MPEG-2 (ISO/IEC 13818-1);
MPEG-4.2 (ISO/IEC 14496-2);
MPEG-4.10 (H.264, ISO/IEC 14496-10).
HEVC (ITU-T H.265 High efficiency video coding)
Input audio formats:
MPEG-2 Layer II (ISO 11172-3);
Dolby Digital (E-AC3, AC-3, ATSC A.52b);
AAC/ADTS/LATM/ADIF (ISO/IEC 13818-7, ISO 14496-3);
AES SMPTE 302M
Supported external events / notification:
SNMP Trap (RFC 3411-3418, STD0062);
SNMP Get (RFC 1155, RFC 1212, RFC 1213, RFC 1157, RFC 3411).
All measurement Errors and clearing are signaled via multiple communication routes:
On-screen Visualization Alerts
Audio Alerts
MultiMonitor Alerts(Client application)
SNMP traps
Email sending
Instrumental control
Reception and displaying of video/audio signals, facilitating instrumental intelligent analysis; and control of input signals for a number of important parameters according to ETSI TR 101-290 (ETR 290) level 1 and 2:
No license
Low throughput
TR-290 TS_sync_loss
TR-290 transport_error
TR-290 PAT sections loss
Service lost
TR-290 PMT sections error
TR-290 CAT sections error
TR-290 PCR repetition error
TR-290 continuity counter error
PID scrambled
PES decoder error
Black video
Video aspect ratio
Audio signal level: overload
Transport Stream Bitrate
Teletext page loss
TR-290 EIT Error
TR-290 EIT PF Error

HLS Transport error
Sync loss
Signal loss
TR-290 sync_byte_error
TR-290 PAT sections error
TR-290 PMT sections loss
TR-290 CAT sections loss
TR-290 PCR discontinuity indicator error
PID lost
RTP sequence error
TR-290 PTS error
Decoder runtime error
Frozen video
R-128 Loudness Level
Audio signal level: silence
Service Bitrate
Subtitles Loss
TR-290 EIT Actual Sections Loss
TR-290 EIT Other Error
Displaying Alarms on State Panel and visualization channels on Penalty Screen
Displaying of information about TS on a top of Video:
Service number and Service bitrate
PID Program Map Table (PMT)
PID Program Clock Reference (PCR)
PID and audio stream codec of the program
PID and video stream codec of the program
Resolution of video stream and FPS
Aspect Ratio
Bitrate of Video stream
Bitrate of Audio stream
Teletext PID and bitrate
DVB Subtitles PID and bitrate
Basic block diagram shows monitoring of TS for 20 Transponders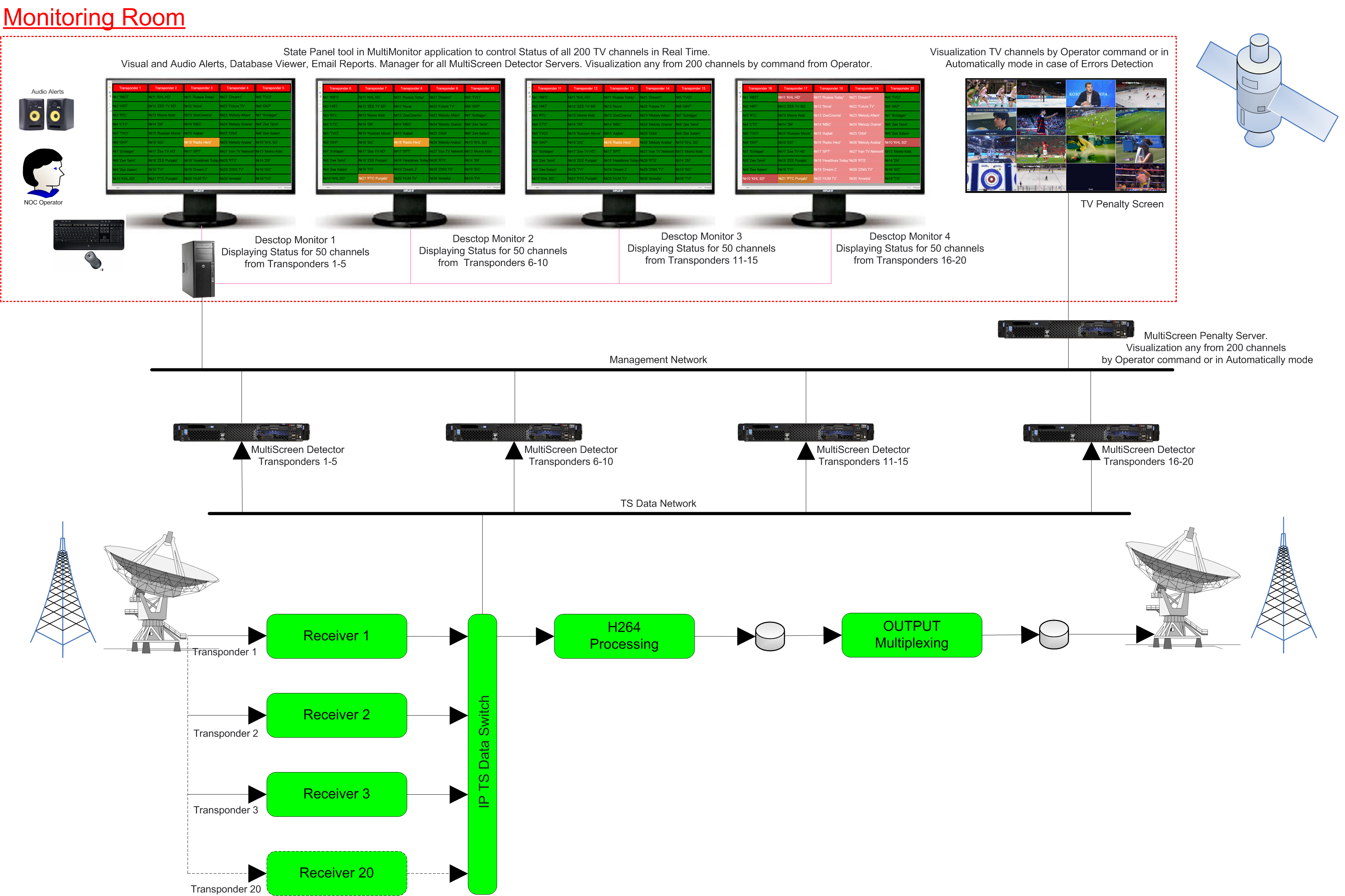 Free of charge client application MultiMonitor provides interface for work with MultiScreen database and allows controlling state of all parameters for all deployed MultiScreen servers. In some particular configurations MultiMonitor also allows dynamic alteration of the set of channels, which are visually monitored on LCD panels.
This unique functionality allows solving problem of monitoring of large number of channels with minimal effort. While operating in configuration mode, client software MultiMonitor allows controlling all available signal sources at remote MultiScreen servers: cards' inputs; IP interfaces, including actual PAT, PMT and SDT tables.
Using special set of parameters, built-in editor can create new configuration for displaying of selected channels in a matter of couple clicks.
Database View - all Events and Errors from MultiScreen Detectors are saved in database.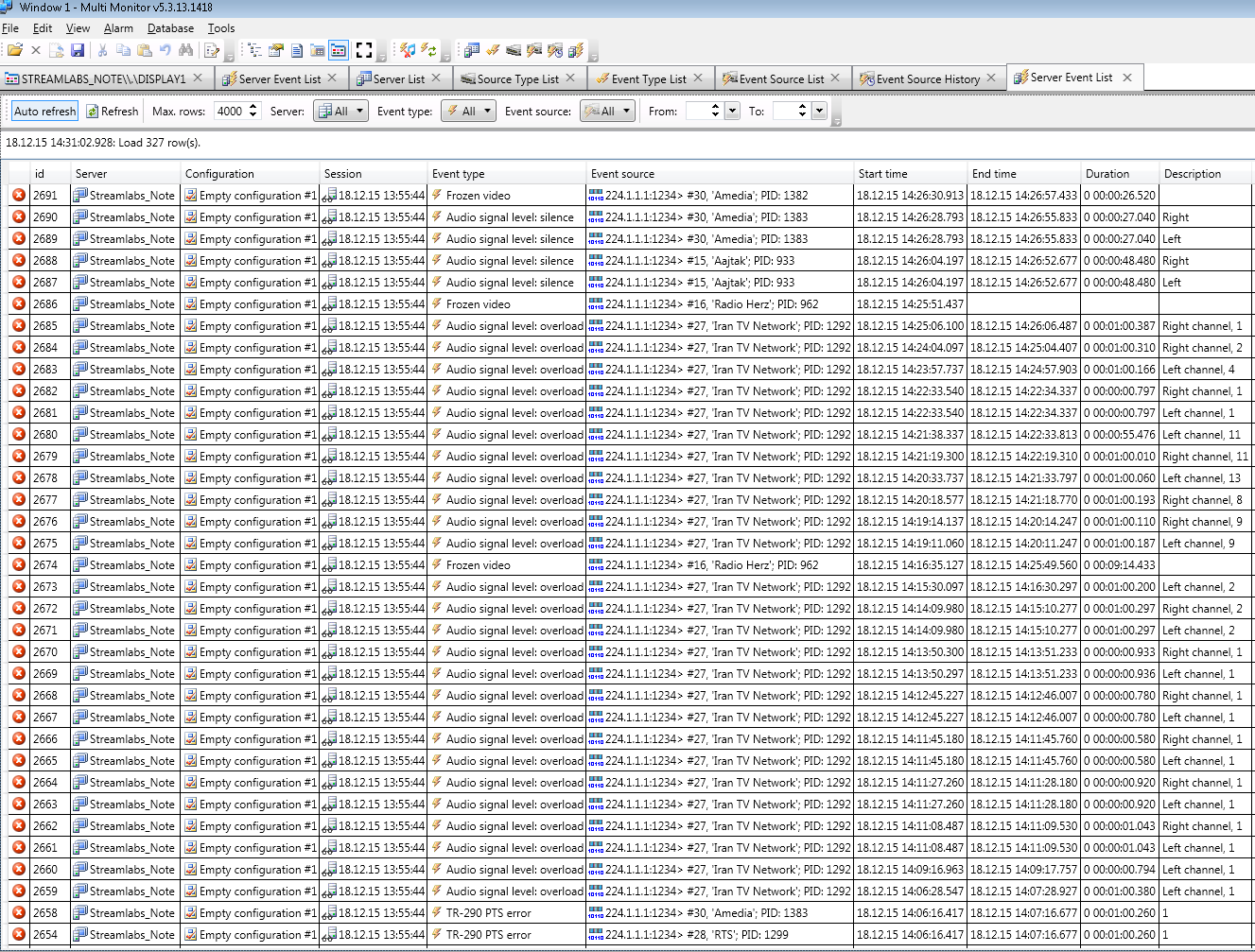 Examples of State Panel
Did you find what you're looking for?