2 in 1 - multiviewer & instrumental monitoring system for TV and Radio channels
Stream MultiScreen system is intended for simultaneous visual and instrumental monitoring of multiple video and audio sources in real-time using one or several LCD-panels in poly-screen mode.
Having been based on successful combination of versatile features, which include multi-channel and multi-format abilities and high-level reliability, MultiScreen system has been implemented in the projects of largest Satellite and Cable Head-End operators, TV Channels and OTT operators.
Supported inputs:
Stream MultiScreen server represents an effective media platform, which provides simultaneous visual and instrumental control of unlimited number of TV- and Radio- channels. The number of physical inputs per 1 server depends on the installed input card.
Composite (NTSC, PAL, SECAM);
Analog (NTSC, PAL, SECAM);
SD-SDI (SMPTE-259M, 10 bit, 270 Mbit/s);
HD-SDI (SMPTE-292M, 10 bit, 1,5 Gbit/s);
DVB-ASI (ETSI EN 50083-9). Bitrate range 0..214 Mbit/s;
AES/EBU (24 bit/ 192 kHz) channels;
DVB-T/T2 (ETSI EN 300 744, 302 755);
DVB-S/S2 (ETSI EN 300 421, EN302-307, EN301-210);
DVB-C/C2 (ETSI EN 300 429 Annex A/B/C);
IP/Ethernet (ETSI TS 102 034).
Video input formats:
MPEG-1 (ISO/IEC 11172-1);
MPEG-2 (ISO/IEC 13818-1);
MPEG-4.2 (ISO/IEC 14496-2);
MPEG-4.10 (H.264, ISO/IEC 14496-10).
HEVC (ITU-T H.265 High efficiency video coding)
Audio input formats:
MPEG-2 Layer II (ISO 11172-3);
Dolby Digital (E-AC3, AC-3, ATSC A.52b);
AAC/ADTS/LATM/ADIF (ISO/IEC 13818-7, ISO 14496-3);
AES SMPTE 302M
Data containers:
MPEG-2 TS (ISO/IEC 13818-1), MPTS or SPTS;
DVB T2-MI Streams (ETSI TR 101 290-1, А14-1).
Option - Stream labs DVB T2MI splitter;
Supported Mobile and Internet streaming (OTT) protocols:
FLASH RTMP streams (Real Time Messaging Protocol). The support of H.264 video and AAC and MP3 audio streams;
HLS (HTTP Live Streaming Monitoring); supports encrypted streams
MMS&MMSH (Microsoft Media Server Protocol & MMS over HTTP);
RTSP (RFC 1889, 2326, 3550).
Metadata:
Teletext and Closed Captions (ETSI EN 300 472 , ETS 300 706)
DVB Subtitles (ETSI EN 300 743)
EPG (ETSI EN 300 468)
SCTE-35 over MPEG2-TS Digital Program Insertion Cueing Message logging
SCTE-104 over SD\HD-SDI logging and reporting
Supported external events' notification:
SNMP Trap (RFC 3411-3418, STD0062);
SNMP Get (RFC 1155, RFC 1212, RFC 1213, RFC 1157, RFC 3411).
Supported Outputs:
Video: up to 6 VGA, DVI-D, HDMI v.1.3, v1.4(Video+Audio), DisplayPort.
Audio: 3,5" mini jack, stereo, unbalanced and balanced, S/PDIF, HDMI, Display Port.
TSoIP. Encoding Mosaic to IP (Optional): MPEG-2 transport stream, H264/AVC, HD up to 1080.
TSoIP. Encoding Video/Audio from input interfaces(SDI\Composite) to MPEG-2 transport stream, H264/AVC, HD up to 1080.
Mosaic over HLS (HTTP Live Streaming)
Any video channel over HLS (HTTP Live Streaming)
All measurement errors and clearing are signaled via multiple communication routes:
On-screen Visualization Alerts
Audio Alerts
Visual Alerts in MultiMonitor(State Panel)
SNMP traps
Email sending
TSL UMD
Integration of visualization with external devices in accordance with TSL UMD v.5.0 Protocol is implemented.
Visual object for UMD, which includes 2 indicators and text box, can be added to visualization mosaics.
Control of UMD is carried out by external devices (like TSL TallyMan
controller) in accordance with TSL UMD v.5.0 Protocol.
List of Alarms
Reception and displaying of video/audio signals, facilitating instrumental intelligent analysis; and control of input signals for a number of important parameters according to ETSI TR 101-290 (ETR 290) level 1 and 2:
No license
Low throughput
TR-290 TS_sync_loss
TR-290 transport_error
TR-290 PAT sections loss
Service lost
TR-290 PMT sections error
TR-290 CAT sections error
TR-290 PCR repetition error
TR-290 continuity counter error
PID scrambled
PES decoder error
Black video
Video aspect ratio
Audio signal level: overload
Transport Stream Bitrate
Teletext page loss
TR-290 EIT Error
TR-290 EIT PF Error
HLS Transport error
Sync loss
Signal loss
TR-290 sync_byte_error
TR-290 PAT sections error
TR-290 PMT sections loss
TR-290 CAT sections loss
TR-290 PCR discontinuity indicator error
PID lost
RTP sequence error
TR-290 PTS error
Decoder runtime error
Frozen video
R-128 Loudness Level
Audio signal level: silence
Service Bitrate
Subtitles Loss
TR-290 EIT Actual Sections Loss
TR-290 EIT Other Error
Example of Mosiac: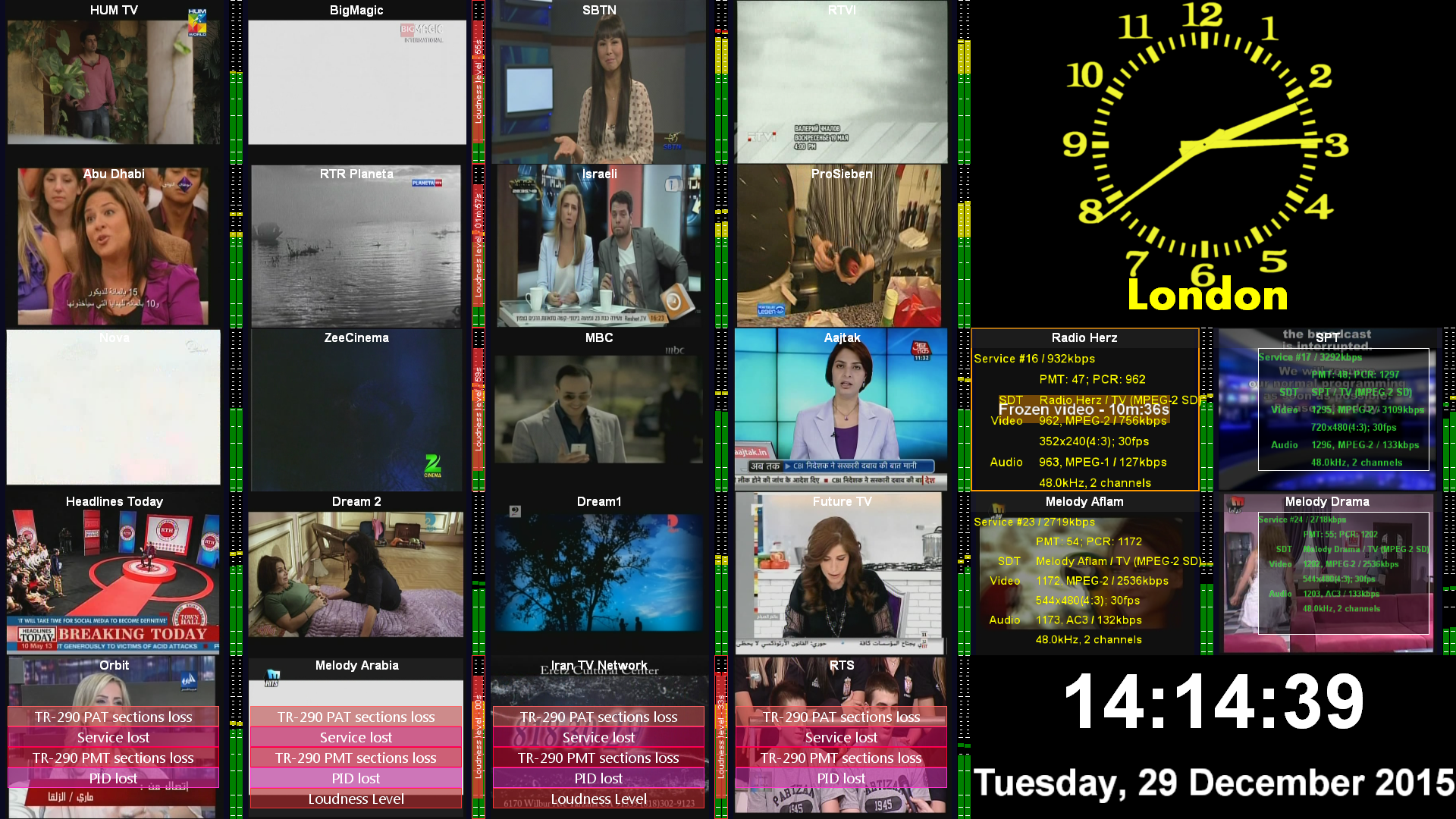 DVB Subtitles, TeleText, Loudness, Multichannel Audio: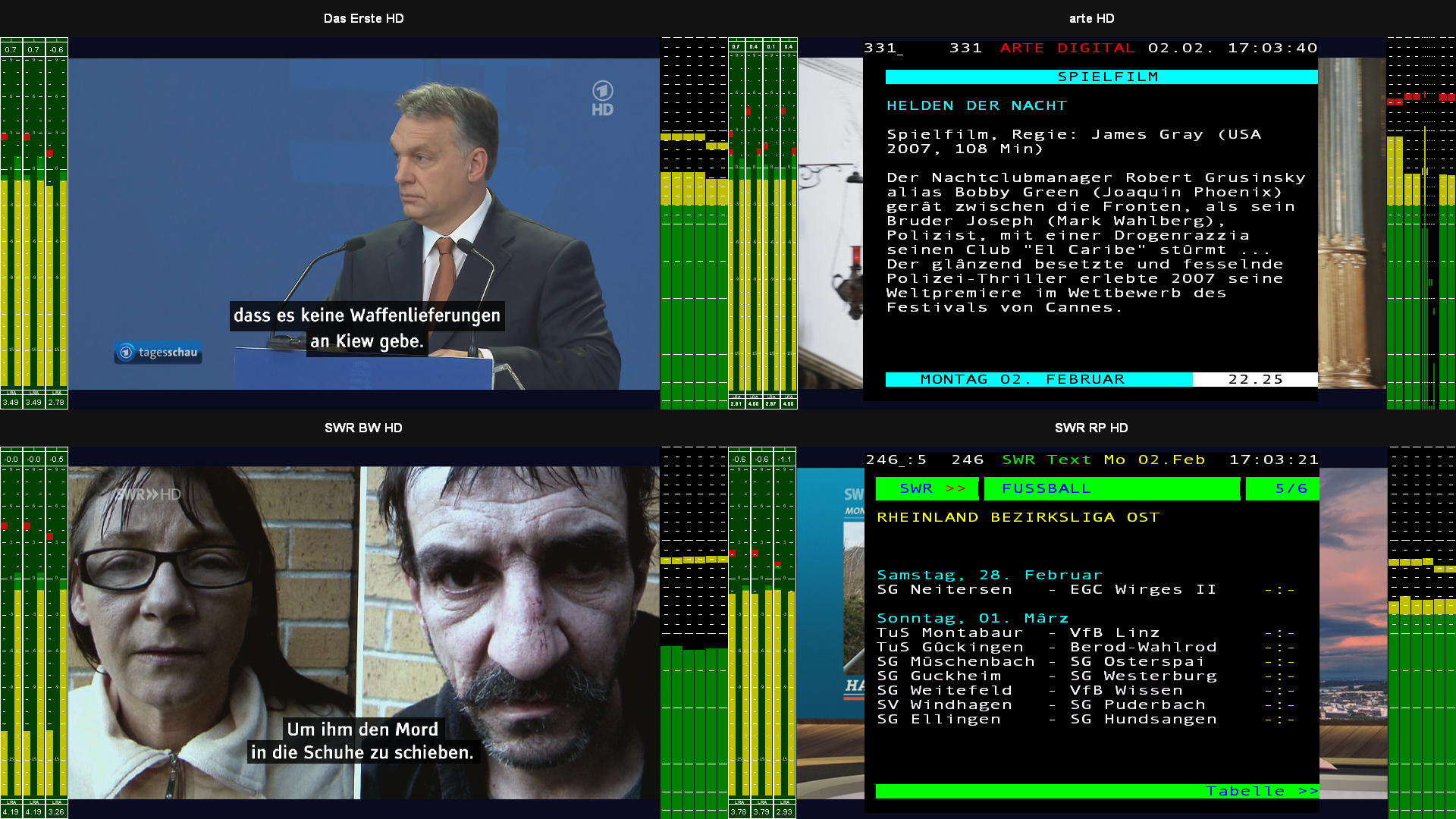 EIT Present and EIT Following: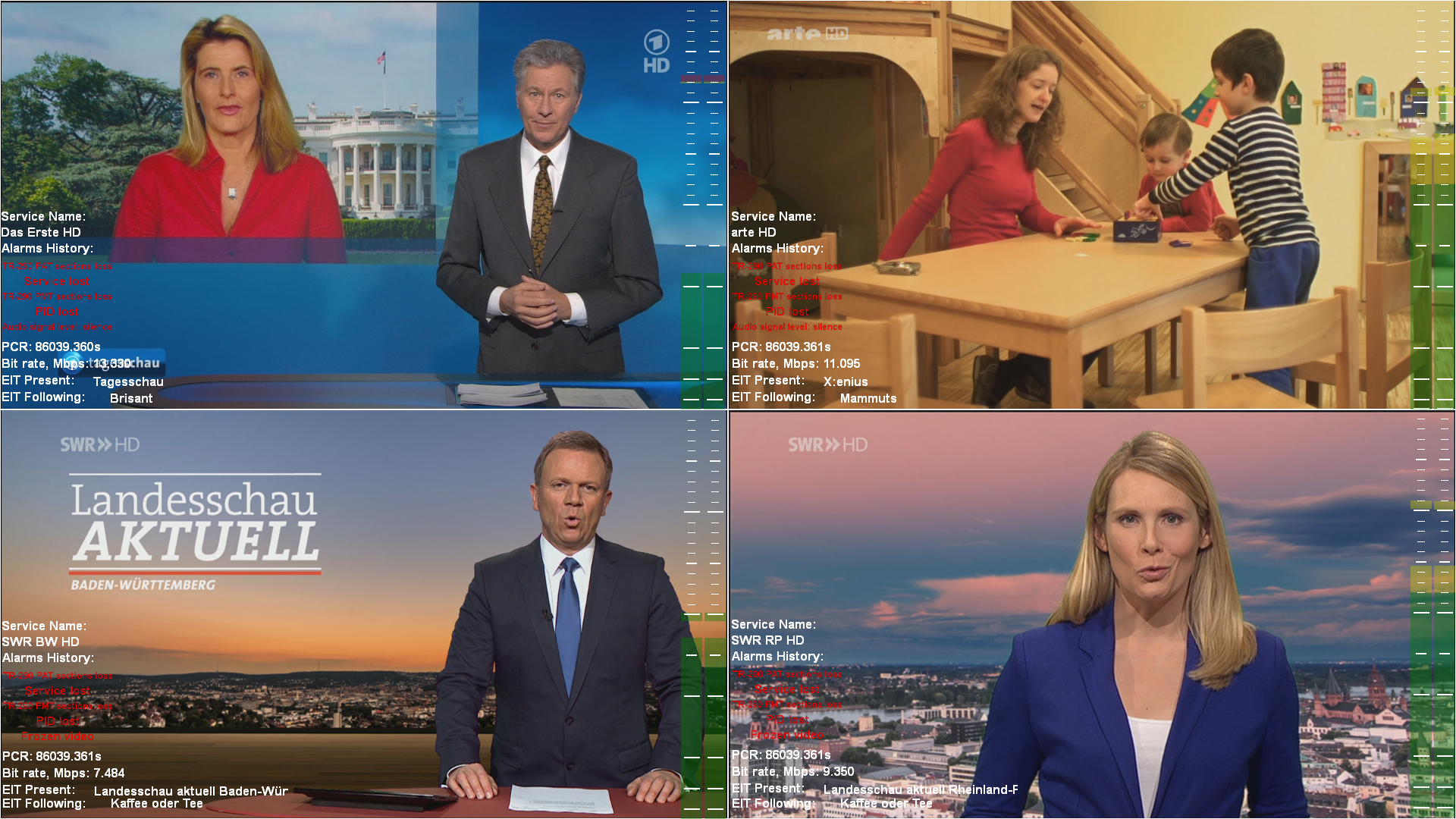 Displaying of the content of web pages: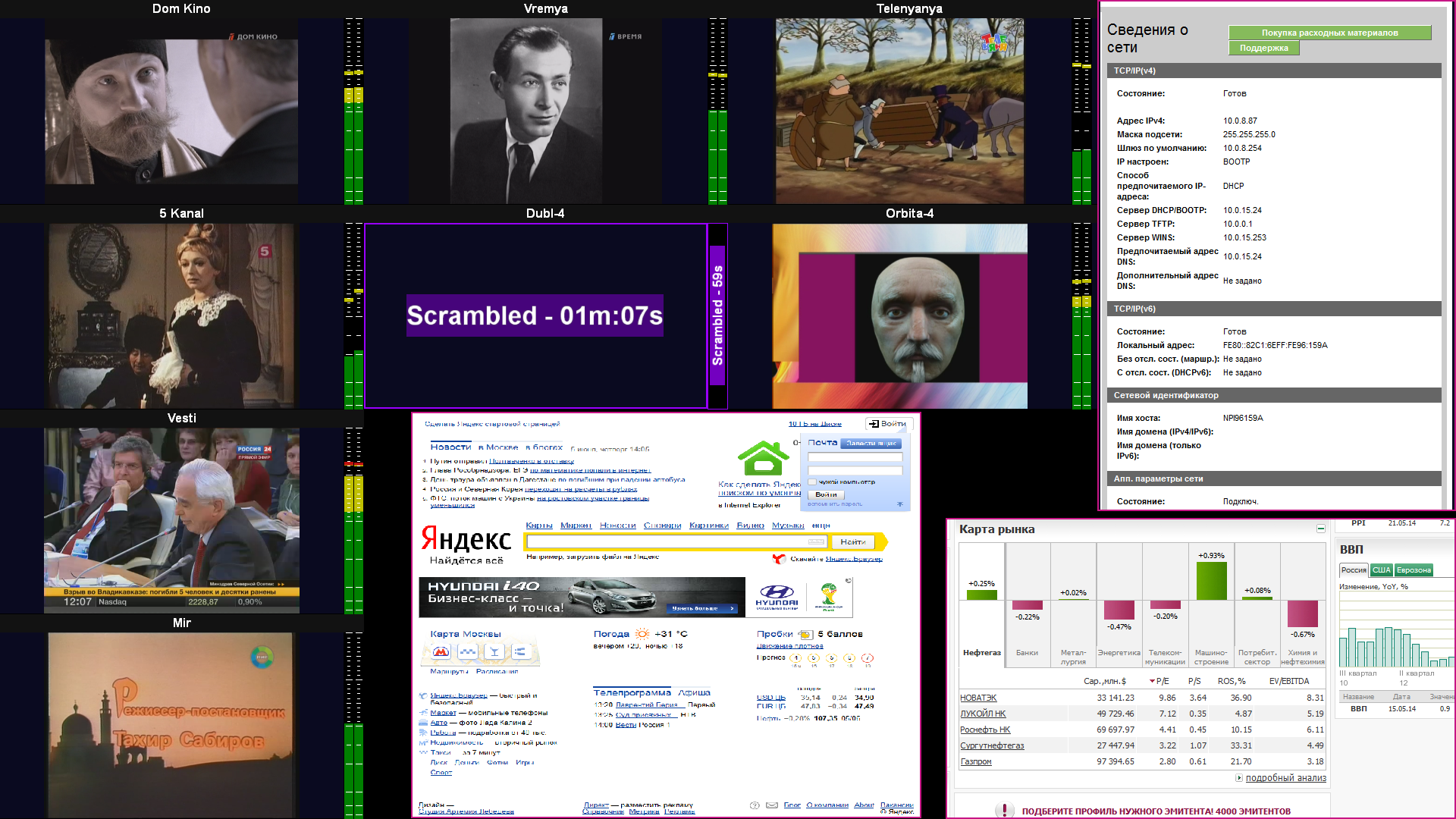 Displaying of information about TS on a top of Video:
Service number and Service bitrate
PID Program Map Table (PMT)
PID Program Clock Reference (PCR)
PID and audio stream codec of the program
PID and video stream codec of the program
Resolution of video stream and FPS
Aspect Ratio
Bitrate of Video stream
Bitrate of Audio stream
Teletext PID and bitrate
DVB Subtitles PID and bitrate
History of Alarms displayed on TV screen:

Active Alarm displayed with timer + history inside:
Client application MultiMonitor allows managing of all servers in the network, creating of Screen Views for MultiViewers, loading events from database for preview, watching of channels' statuses, redirecting channels with problems to Penalty Server, downloading video with errors from storage, providing visual and audio alerts to operator, emailing, etc.
| | |
| --- | --- |
| EPG Decoding in MultiMonitor app (EIT tables): | Database Viewer: |
| | |
| | |
| --- | --- |
| SCTE-104 Logging: | SCTE-35 Logging: |
| | |
Loudness Measurement:
According the ITU-R BS.1770 standard end EBU R-128 recommendation
Loudness Chart
Graph formation in real time or from database
Control any number of Audio decoders in one service.
Loudness Range (LRA)
R-128 Loudness Level
Loudness Splash
Loudness Short Term
Statuses of all channels from all servers
Can be displayed in one MultiMonitor application on Operator's PC
Integration with Compliance Recording system - MultiRec
Stream MultiScreen can work jointly with system MultiRec, crafted for compliance recording. Database for alerts, generated by MultiScreen has been integrated with archive of recordings, produced by MultiRec; and allows downloading of fragments of archive, matching to alerts, straight from MultiScreen application in one click. You may view them later on at your convenience.
Recorders in client application: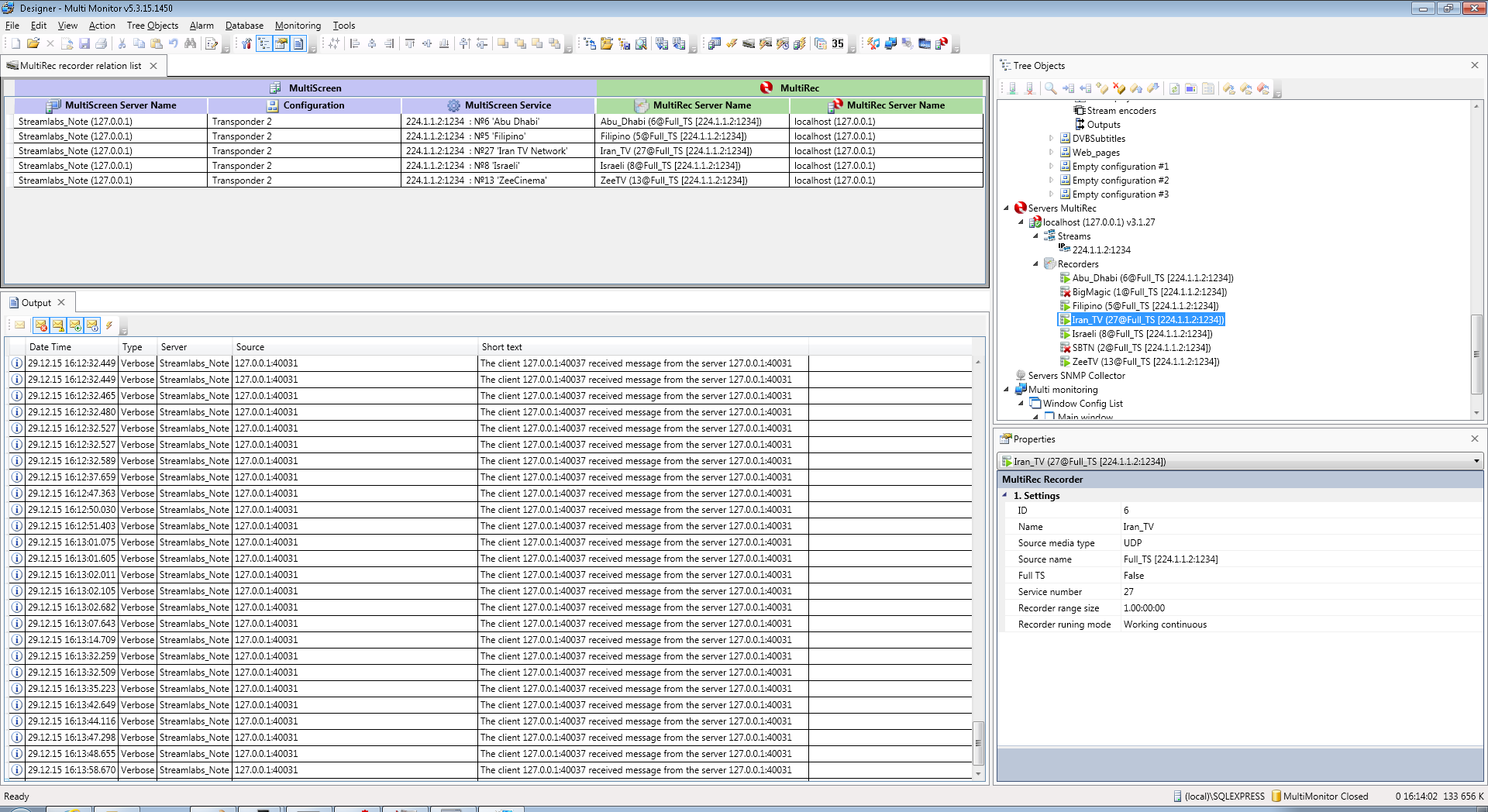 Downloading video fragment with Error from Storage: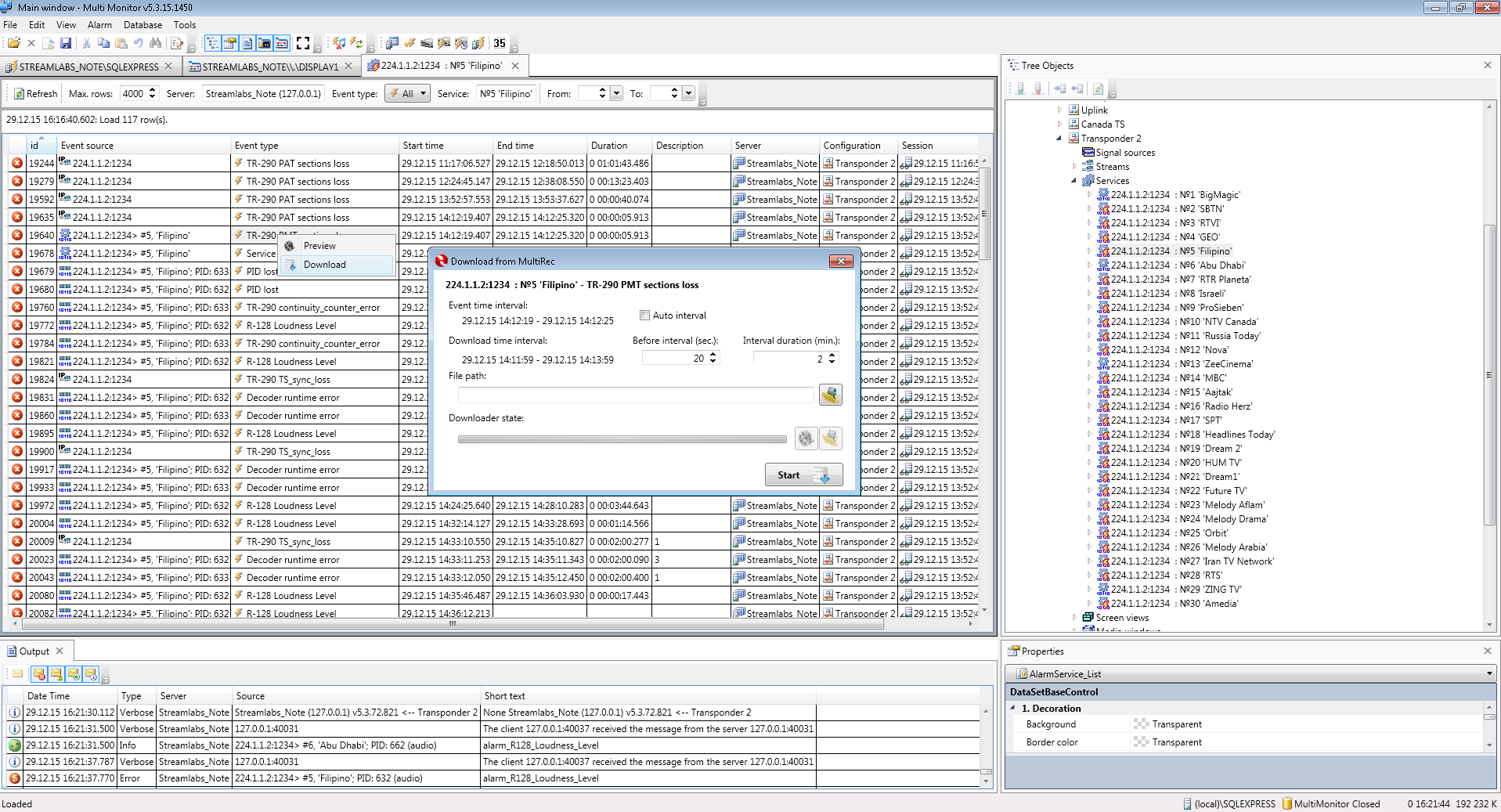 Did you find what you're looking for?